Monday, July 26, 2010 at 10:00AM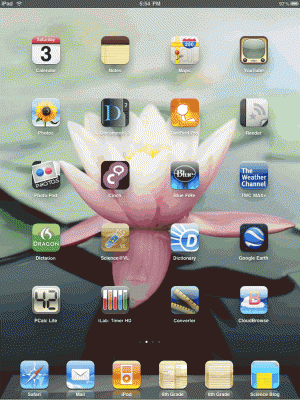 (Click on any image on this post to see it full size.) This is a
cross post that I started on my blog
as a plan for using 12 iPads in the Fall of the 2010-11 school year with my middle school Science classes. I teach three 6th grade classes and two 8th grade classes. Here's what I'm planning to use on the 12 iPads. On the bottom dock of the main screen, next to the Safari, Mail and iPod links, I've placed a link to my
6th grade Moodle page
, a link to my
8th grade Moodle page
and a link to our
classblogmeister
blogs. Students can access my Moodle documents and links and resources as well as their blog accounts. With
Cinch
students can even create podcasts to load onto their blogs. Along with
Cinch
I also had to get
Blue FiRe
cause it's great for recording. Sadly, they can't create
glogs
or
prezis
on the iPads but that's why I'm glad I have iMacs and PC's for students to be able to do those as well. At least that's what I thought until
@NMHS_Principal
reminded us that
CloudBrowse
allows you to view flash content on the iPhone and iPad. We'll see if
prezi
and
glogster
will work. I'm planning to use twitter in class so I got
Twitbird Pro
. I love having class discussions where more than one student can "talk" at a time, especially the quiet, shy ones. Go backchanneling! I tried using Moodle chat this past year with students in their small teams and after a slight hiccup it became a huge success! For an RSS agregator I find
Reeder
to be fantastic.
The Weather Channel Max (TWC Max+)
for the iPad is awesome and kicks butt of the iPhone version. It's going to be great. I got my school a Google Apps account and with the
Documents2 app
students can access their Google Docs or share their work from Documents2 via FTP or via a web address. It's a pretty nifty app.
Photo Pad
allows us to share pictures using Flickr so I'm excited about using that app too. I'm sure students will find
Dragon Dictation
useful, my 7 year old daughter loves it but she enjoys all the errors it makes :). I also have a Science glossary,
ScienceVL
, and a regular
Dictionary
with Thesaurus (
dictionary.com
).
Google Earth
for the iPad, a calculator app,
PCalc Lite
, a timer app,
iLab: Timer HD
, and a unit
Converter
app, round out the main screen. [
Addendum: After trying out Tweetdeck for the iPad I'm not happy with it. It crashes constantly and I can't add a Facebook column and I couldn't even figure out how to delete a column. Maybe I'm missing something. So I've deleted Tweetdeck. I've also decided against Read It Later, it's great for me but I'm not sure students will need it. Same thing with the Delicious Bookmark app. So those three are gone. Add to the list Dropbox. I would need to buy another app because I can't use
Documents2
with Dropbox so I've decided to keep
Documents2
and delete Dropbox.
]
On the second screen I have some Science apps. One of my absolute favorites is The Elements app, which is the most incredible way I have seen to learn about elements in the periodic table. There are some fantastic periodic table websites out there but this app blows them away! The Star Walk and Solar Walk are also very cool and along with the moon phase app will be very enjoyable and helpful for students. The BrainPop app is pretty cool and I'm curious about the Bug Sim app (pictured below). I haven't tried it yet, but it's a simulation game (the only game I have on the iPad cause the learning apps I have are fun enough, right?) "for Darwinian Evolution, specifically through survival of the fittest." [Okay, so I tried Bug Sim. Not visually stunning, the bugs are multicolored one or two pixel square boxes. Fainter, smaller circles represent food. You choose how many bugs to start with, how much food, and how food regenerates. You can even add up to two gardens of Eden with quickly regenerating food supply. Then you let it run and see what happens with a graph showing population growth and decline. It also shows births, deaths, and mutations. I think i will try it with my 8th grade Life Science classes.] With Animation HD students can create animations to use on their blogs or wikis. Ezimba is a cool app for students to add effects to photographs. Another creative app. VideoScience has some great videos of science experiments and labs. So along with DNA Lite, Molecules, Insects HD, Animals HD, and HD Marine Life 2 I think students can do some fun learning (had to find stuff for my 8th grade Life Science students). MeAnderthal is just fun (too bad you can't take pictures with the iPad, we really need that feature added). GoDocs is good for viewing Google Docs (viewing only as I discovered after buying it). Then iBooks, Kindle and Stanza round out this second screen. After reading iPad in Education I added the Photopad app to this screen for photo editing to go along with Ezimba.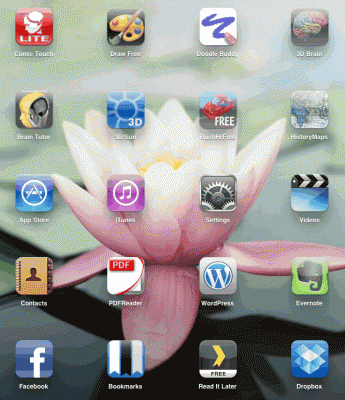 The third screen is as yet undeveloped. I have some apps here that I am using this summer but don't plan to use with students. HistoryMaps is cool so I'll keep it for my students who appreciate history like I do :) I added some more apps to fill up this screen after reading iPad in Education. I added Comic Touch Lite (the free version), Draw Free and Doodle Buddy to help students create what they need for their blogs or wikis. I also added 3D Brain, Brain Tutor and 3D Sun for some fun Science. And I gave in and added a game. The free version of Rush Hour. So I can't wait until October! :o) Please let know if I'm missing anything or if there's a cool iPad app I should try.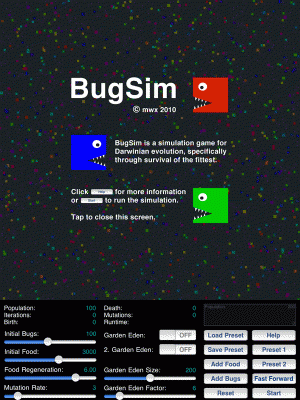 Since writing this post I've added a few more apps that I'm looking forward to testing on my kids to see how they work.
I've added 3D Cell Stain for my 8th grade Life Science classes.
I've also added the following:
GoodReader,
Qikcrossword,
GroupBoard,
iDraft,
Sundry Notes,
Idea Sketch,
Free Emoji,
Adobe Ideas,
Caster Free,
SparkVue,
Firefox Home,
GPS Tracker, and
GoToMeeting.
Those are the latest I want to try out. Don't know if they're must have or not. I'll see which ones work or are even needed when I start using them with students.
tagged
Science,
apps,
education,
iPad,
middle school,
middle-school,
middle_school
|
in
Middle School